Do you use the ParentAccess Mobile App to check your student's grades? The makers of the app recently updated the ParentAccess Mobile app (available for Apple & Android) to include Notifications. They created the following video you can share with Parents and Students :
https://www.youtube.com/watch?v=Mi5QanEAhoM

Challenger League (Please see Flyer)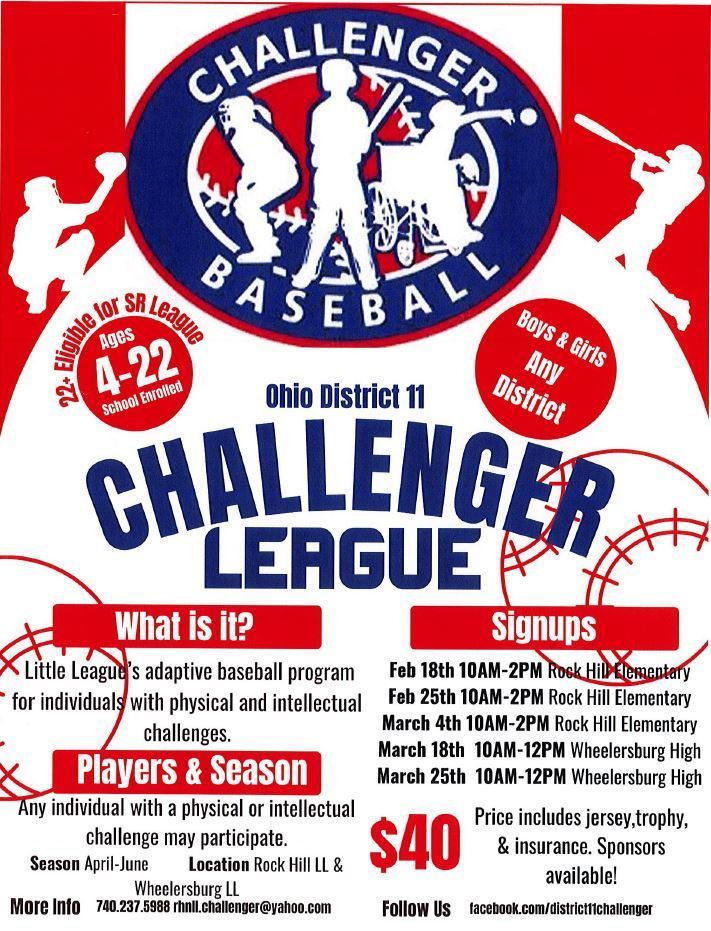 The VHS Girls bball banquet will be on Wednesday the 15th at 6pm.
JOB POSTING PERIOD: March 07, 2023 through March 13, 2023 RESUME SUBMISSION: Scott Rolfe, Central Office 1821 State Route 728 Lucasville, Ohio 45648 POSITION: Credit Recovery/Credential Coordinator, Sports Performance Instructor REQUIREMENTS AND QUALIFICATION: 1. Valid Ohio Physical Education License 2. Prior teaching experience is preferred 3. Experience with credit recovery 4. Experience utilizing PBIS supports/strategies 5. Demonstrate knowledge of and proficiency in; • Rise Up program/Ohio Means Jobs programs • Credit Recovery opportunities • Physical activity training schedules • Dietary and Exercise programs Additional Information: - The Board of Education reserves the right to determine whether or not to fill the vacancy. - Interviews may be conducted by the administration. - The following items are required for consideration 1. Detailed resume 2. 3 References 3. BCI/FBI Background Check Valley Local School District provides equal employment opportunities (EEO) to all employees and applicants for employment without regard to race, color, religion, sex, national origin, age, disability or genetics. In addition to federal law requirements, Valley Local School District complies with applicable state and local laws governing nondiscrimination in employment in every location in which the company has facilities. This policy applies to all terms and conditions of employment, including recruiting, hiring, placement, promotion, termination, layoff, recall, transfer, leaves of absence, compensation and training.

LL Sweets and the Valley Band Boosters have teamed up to raise funds for the Valley High School Band On Thursday, March 2nd LL Sweets will donate 20% of all pre-taxed food sales from guests ordering who mention 'Valley Band'.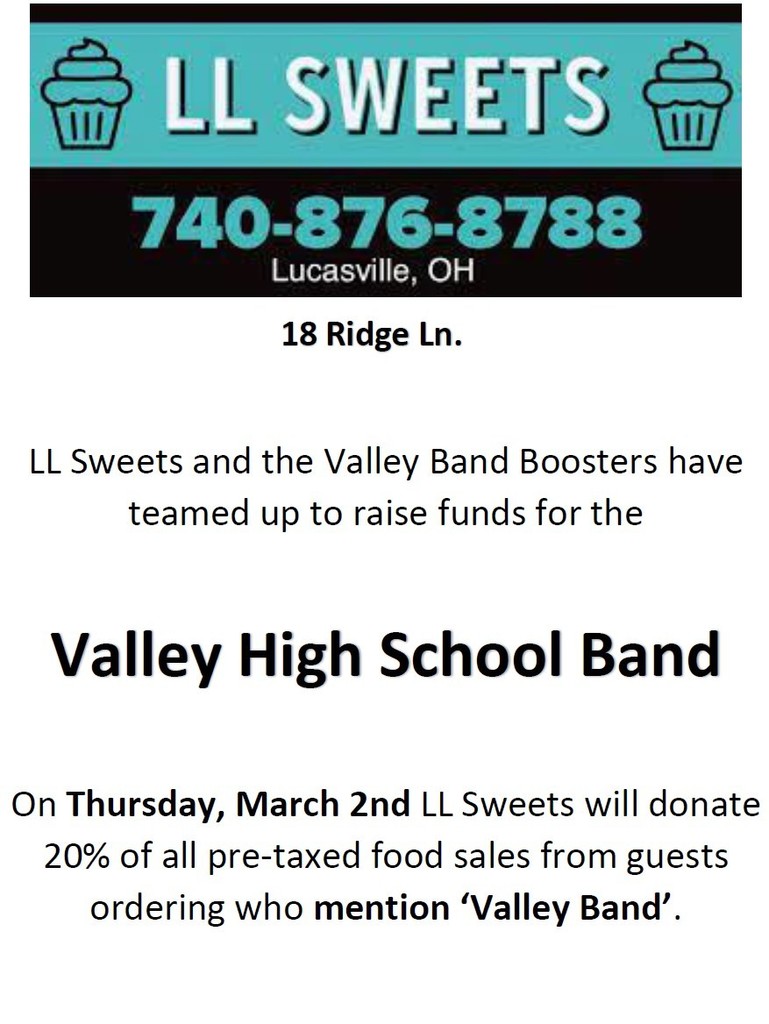 VHS Boys Bball will play in the District semifinal Tuesday the 28th at 8:30pm at Waverly High School. They will clear the gym after the first game which begins at 6pm. Gates for the second game will probably not open until at least 7:45, All tickets are sold online No Tickets at the gate. Click here for tickets:
https://ohsaa.hometownticketing.com/embed/event/19576
High School Boys Basketball play Saturday at 7 pm @ Home vs Westfall REMINDER: No tickets are sold at the gate, must purchase them on the OHSAA website High School Girls Basketball play Thursday @ Southeastern High School vs Notre Dame at 6:15 pm in the District semi-final. Purchase tickets on the OHSAA website

Information for Senior Ads for VHS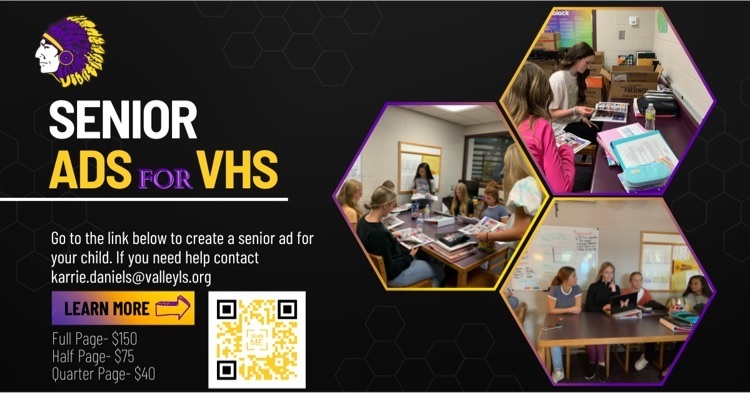 Tonight our VHS Boys Basketball team will be playing Waverly at home for the final regular season game. We will be honoring George Arnett, Colt Buckle, Hunter Edwards, JR Holbrook, Adrian Keeran, Carter Nickel, Christopher Queen, Levi Stewart, Morgan Stewart, and Abby Webb during our Senior Night presentation. Senior Band members will also be honored. Tonight's theme will be ⬜️WHITE OUT⬜️ and everyone is encouraged to participate. JV game will begin at 6:00pm with Varsity to follow.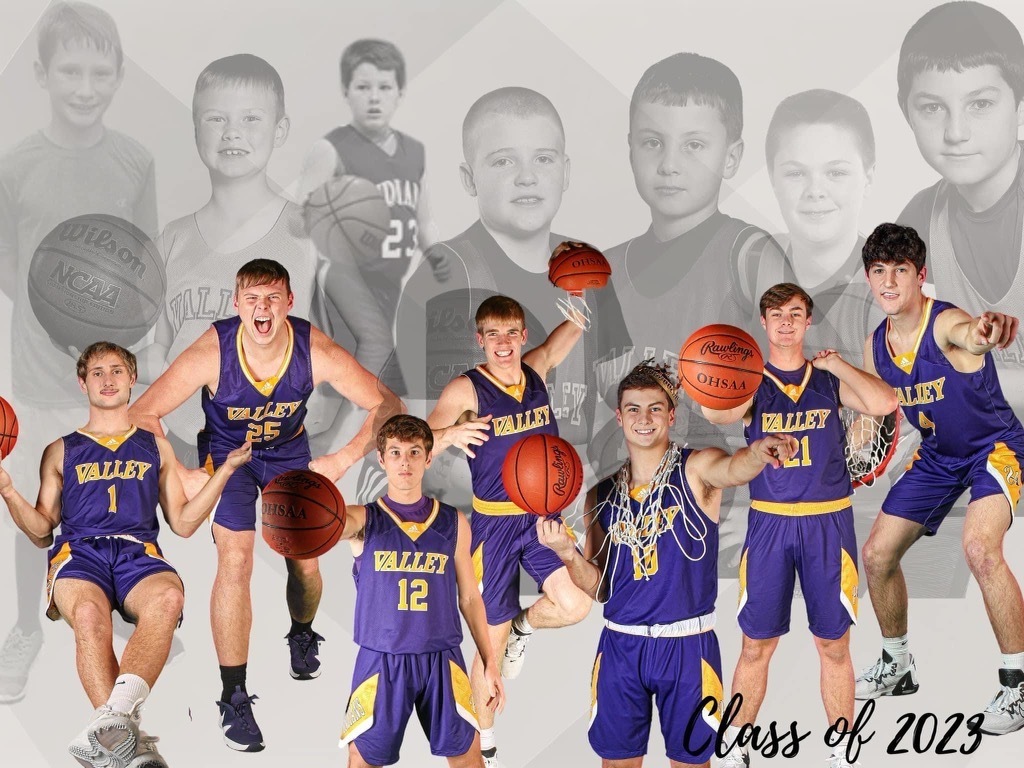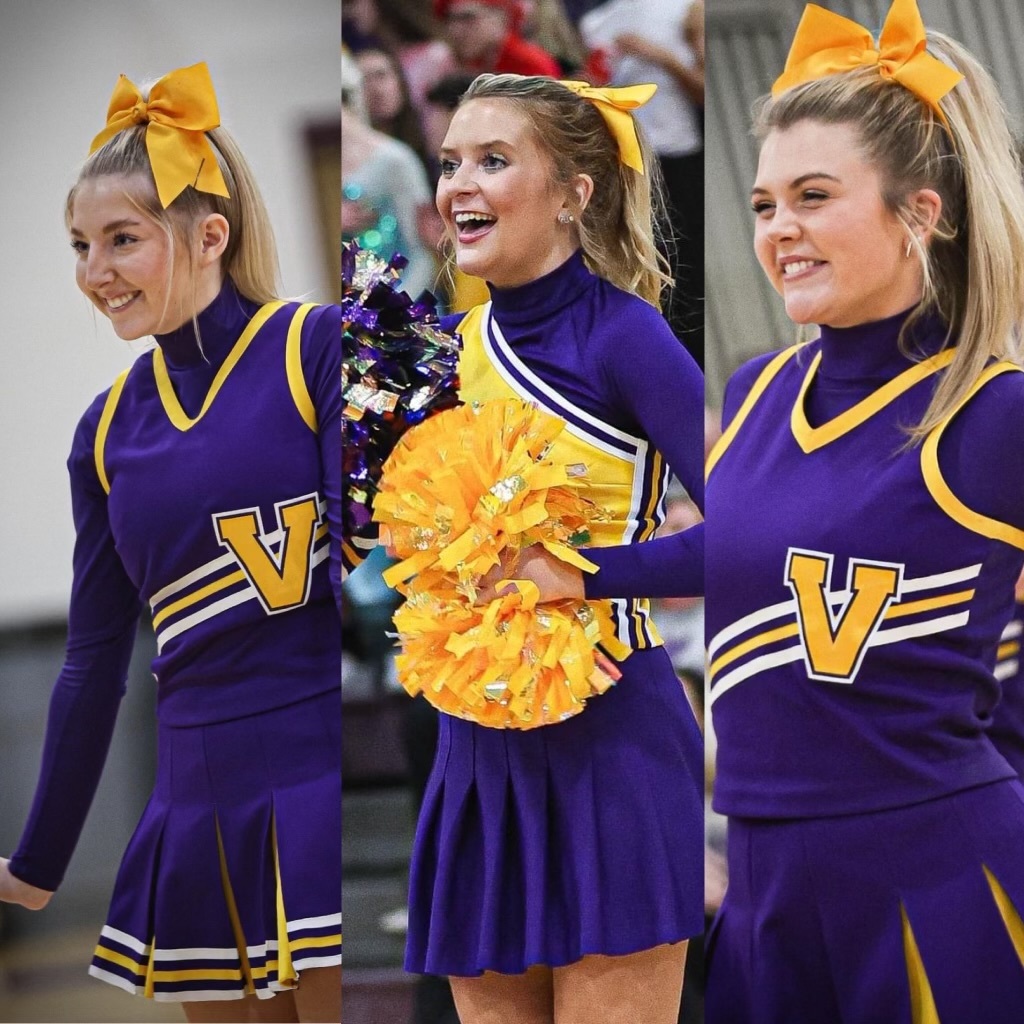 ​UCAN helps Valley Students Plan, Prepare and Pay for College. Make your match for Valley LSD! Scioto Foundation will give away $40,000 to Scioto County schools' UCAN funds to celebrate 15 years of UCAN! Any donation to the Valley Legacy Scholarship Fund is eligible for a match. Join Valley Local Schools and the Scioto Foundation in sharing our vision that one day, every student will have the financial resources to attend the college or university of their choice. ​Be sure to follow the link below​ and check out our website to learn how your tax-deductible gift to the Valley Legacy Scholarship Endowment Fund will help us to sustain a lasting legacy beyond any single person or generation! ​Link:
https://www.valleyindians.net/page/ucan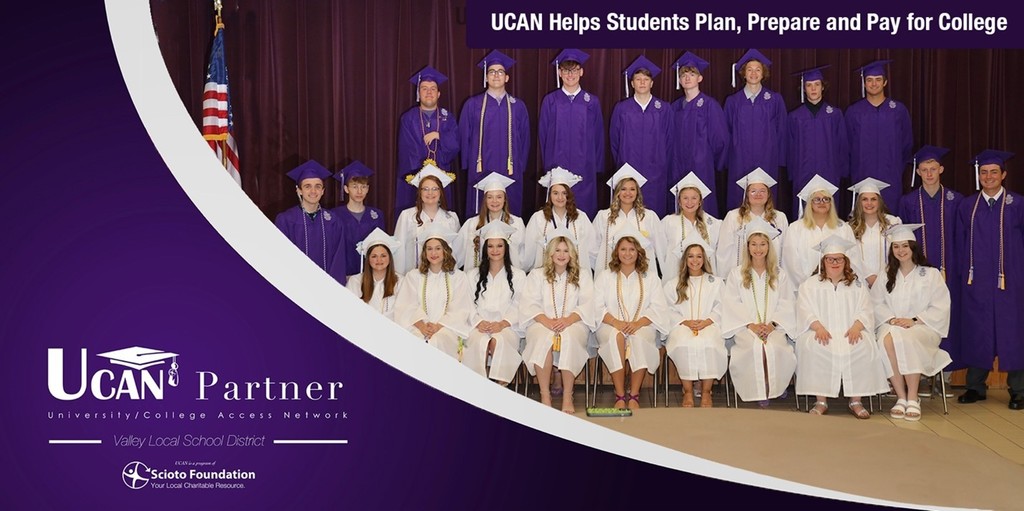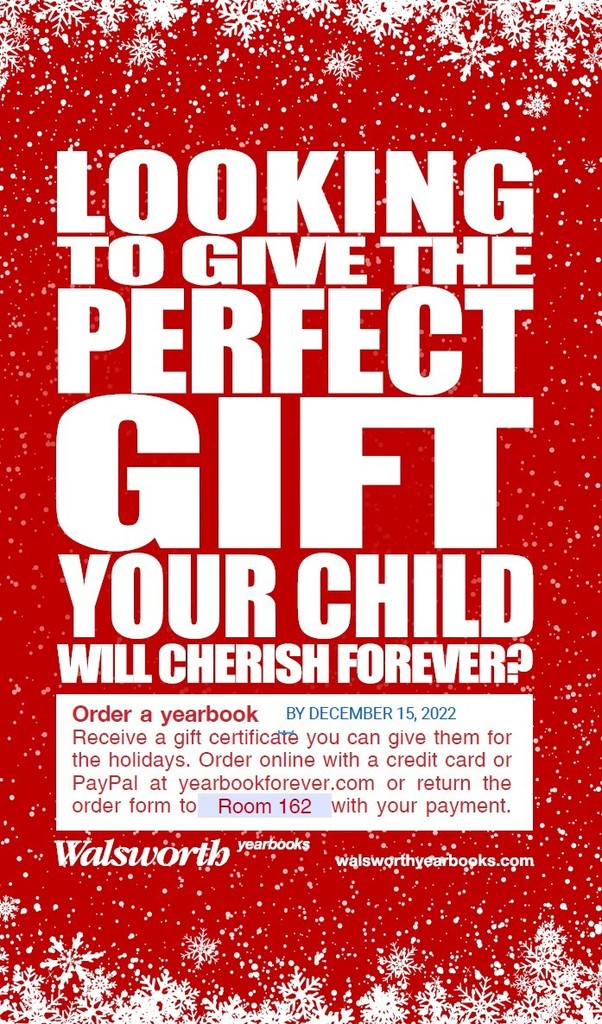 FAMILIES OF VALLEY LOCAL SCHOOL DISTRICT STUDENTS As the holidays are approaching, we would like to remind everyone to update any information changes to keep our time at school a success. We understand with all of the running to and fro for the holiday season this makes it hard for families to cover everything. This may cause changes to occur that need to be communicated to our staff. We ask that all information be updated to cover your student's needs for cases such as illness, giveaways, fundraisers, food drives or any other holiday updates that would pertain to your student. Information that is to be checked for updates are as follows: student's contact numbers, address or transportation changes (per student handbook). Please log on to the Final Forms website with the link provided below. It is good to update all new and changed information to Final Forms this way so the school staff will be able to contact you in time of need or with questions regarding your student.


The school district heard of a possible social media threat this morning. Law enforcement was contacted to attempt to verify the social media post. At this point it has not been verified or seen by the Sheriff's Office. We will continue to operate on a normal schedule.

We apologize for the lunch/breakfast negative balance calls going out with the incorrect information. We had hoped the issue was resolved. We are continuing to work with the company to get this taken care of. Thank you for your patience.
Sub-Paraprofessional Aide Openings - Contact Lisa Harley 740-259-3115 Qualifications • Demonstrated ability in working with students in formal and informal situations and show evidence of successful work experience • Eligible to obtain a State Paraprofessional Aide License • High School Diploma or G.E.D • Must be physically able to lift up to 75 pounds • Valid driver's license or state ID • Reliable and insured transportation • Hiring contingent upon successful TB Test and other background checks Responsibilities • Reports to: Building Principals • General Duties: To assist the teacher in achieving teaching objectives by working with individual students or small groups to help them achieve the skill levels of the class as a whole • The aide will accomplish this goal under the direction of the classroom teacher and the supervision of the building principal • Works with individual students or small groups of students to reinforce learning of material or skills initially introduced by the teacher • Guides independent study, enrichment work, and remedial work set up and assigned by the teacher • Corrects papers and supervises testing and makeup work as assigned by the teacher • Assists with such large group activities as reading aloud and storytelling • Serves as the chief source of information and helps any substitute teacher assigned in the absence of the regular teacher • Alerts the regular teacher to any problem or special information about an individual student • Maintains the same high level of ethical behavior and confidentiality of information about students as is expected of teachers • Assists with the supervision of students during emergency drills, assemblies, play periods, and field trips • Performs other job related duties as assigned by the teacher, principal or designee • Works with individual or small groups of students on specific skills and/or assignments • Assists in classroom by answering individual student's questions while he/she is working on assignments • Monitors/assists students during lunch, free-time activities or work placements • Assists students with personal health needs such as feeding, walking, toileting, etc. • Accompanies student to inclusion classes, as needed • The incumbent will be required to follow instructions and perform duties required by the incumbent's supervisor, appointed authority, or designee • Creates visuals (visual schedule, social stories, reward schedule, etc.) to aid the student's sensory/behavioral needs • Collects data, if requested

The Valley Middle School has EXTRA 2022 YEARBOOKS AVAILABLE. Please contact Mrs. Williams at Valley Middle School. These are limited supply and first come, first served. Cost is $25. The Valley Middle School number is (740) 259-2651.